Villa Review: Ftelari Villa, Santorini
Luxury Explorer
Turning off the main road onto a barren rocky track belies the magic that soon awaits. Our personal driver negotiates the terrain, crossing the Caldera (what's left of Santorini's mountain rim following an ancient volcanic eruption that flooded the crater) and descends to the Ftelari Villa — the island's most naturally and exquisitely positioned 3-bedroom private hideaway.
Stepping out into the October heat, we catch our breath at the all-encompassing view. Carved into the side of a cliff face, Ftelari villa is built in traditional Cycladic style with 180 degree views spanning the length of Santorini's crescent-shaped island. Set midway between the pure white towns of Imerovigli to the west and the beautiful blue domed Oia to the east, the uninterrupted views not only span the natural beauty of the Caldera but the crystal blue Aegean bay where the old volcano sits amongst the smaller islands that make up Santorini.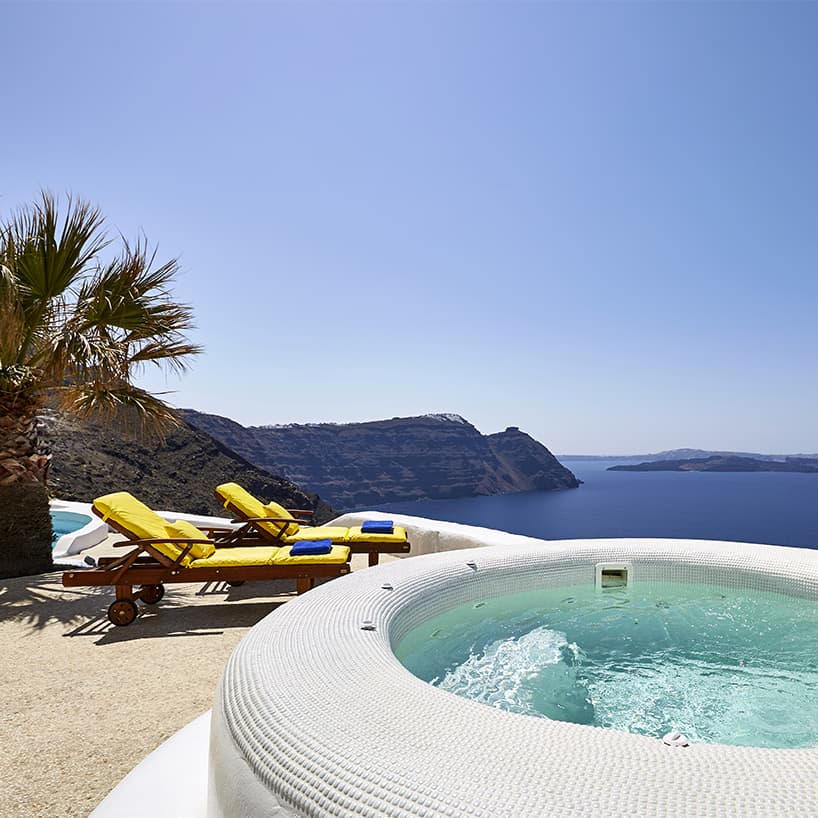 SUBLIME SERVICE
We are greeted by our personal assistant-cum-butler, Costas, who lives in separate accommodation below the villa and provides 24/7 service.  But we are too engrossed by nature's pyrotechnics to pay him a great deal of attention as it is early evening and the Santorini sunset is already beginning its colourful transformation from pale pink and blue, to orange and yellow and then to a deep red and burnt orange.  It is utterly mesmerising.
Lights on and the villa becomes a glimmering haven in yellow and white. Costas brings a bottle of chilled white wine from one of Santorini's many renowned vineyards.  The island's dry, volcanic, mineral-rich soil and unique climate produce probably the best wine in Greece.  Without a restaurant within walking distance, Costas is also on hand to order and collect food from some of the island's top restaurants to enjoy from the comfort of our vast terrace.
There is no doubt a good night's sleep awaits in the spacious cool bedrooms where the king-size beds in all three bedrooms are dressed with linens of a standard you would expect from such 5-star luxury accommodation.
NO FILTER MORNING VIEWS
Opening the shutters, the early morning views are the ultimate holiday shots – a collage of every blue in the palette, shot through with the searing white of the terrace, framed by the crimson flowering vine and dark green palms. It's Instagram heaven and #nofilter needed here.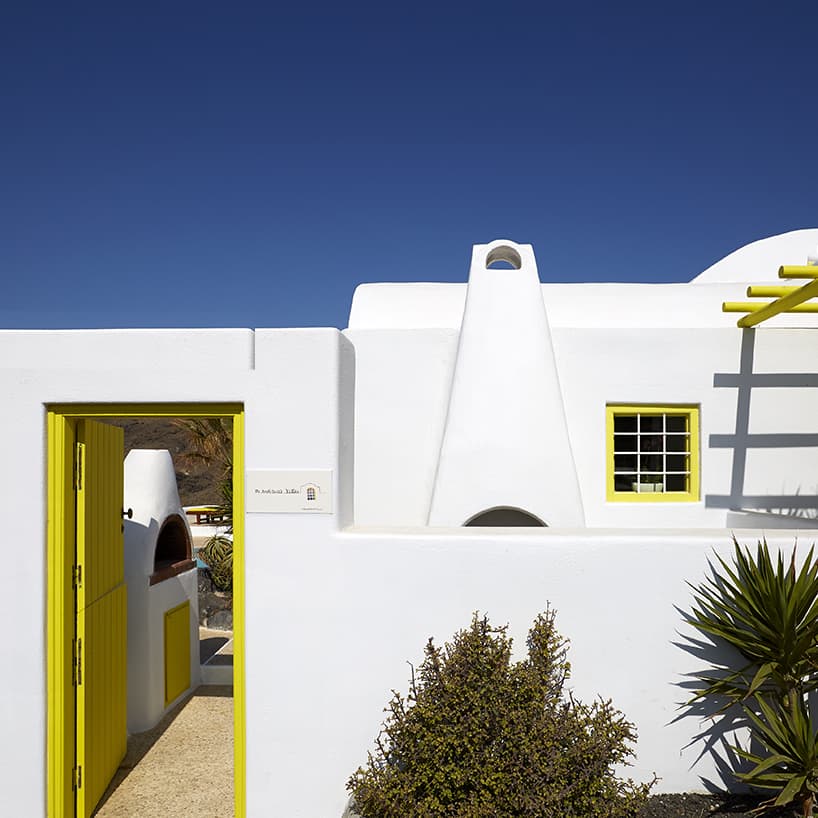 BENEATH THE BOUGAINVILLEA
We request a late breakfast and Costas has been busy collecting local produce and serving up freshly squeezed Cretan orange juice the colour of last night's sunset, beneath a canopy of bougainvillea.
Indulgent local breads and patisseries fill the gap while the traditional Greek breakfast of eggs with fresh tomatoes, cucumber, feta cheese and a mass of fresh herbs is whisked up. Date palms are perfectly placed to protect us from the heat of a cloudless Santorini sky.
Settling down to take in the view, there are many options.
Lounge beds looking out over the Caldera, a hot tub that's just the right temperature, a turquoise heated pool big enough to swim in, a shady table and comfortable chairs, and a bbq grill and wood oven. Our turquoise pool awaits for a mid-morning dip.
A LOOK INSIDE
The villa has three large light and bright king-size bedrooms with the yellow and white theme continued throughout.
There are two reception areas.  The main lounge is substantial with a large and low L-shaped sofa surrounding an impressive floor to ceiling fireplace.  Up an attractive staircase, a loft reception has comfy chairs and loungers and is the ideal retreat for younger family members.
The kitchen is more than fully equipped. An extra large fridge is stocked with large bottles of water and other necessary provisions. There's a comprehensive array of Nespresso coffees and gourmet teas.
Complimentary services include private airport transfers and a hire car for the duration of your stay – I require an automatic and that is no problem. We use it to explore the pretty local villages like Imerovigli and Pyrgos. But surrounded by such comfort and such beauty, guests will struggle to ever want to leave.