Villa Review: Astra Private Villa, Santorini
Luxury Explorer
The Aegean sparkles, dotted with yachts, ferries and fishing boats, as we start our descent into Thira, Santorini's international airport. With an aerial view and crystal clear skies, we can clearly make out the white villages and domed towns clinging precariously to the sheer rock face of this volcanic island – known as 'The Diamond of the Cyclades'.
A 15-minute drive from the airport by private complimentary transfer delivers us to another jewel – The Astra Private Villa in the Greek picture postcard village of Imerovigli.
Welcomed like long lost family by the owner and private concierge, our bags are whisked away, balanced on shoulders by helpful staff, leaving us free to take in the stunning setting, soak up the unseasonable autumnal heat and excitedly relish the prospect of an October stay at one of the island's most exclusive private villas.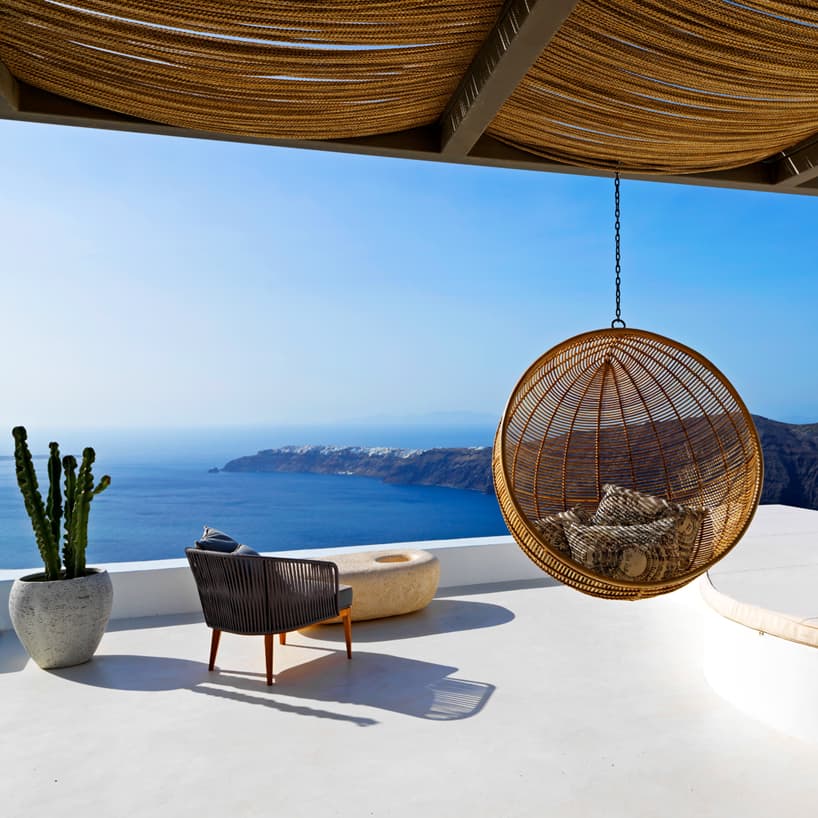 MAGIC AWAITS
Strolling down a cobbled passageway, we reach a secret wooden doorway and sense that magic is awaiting us.  Opening onto a gleaming white space with a beckoning spiral staircase we descend into the luxury of the villa itself.  Immediately there is a sense of peace, calm and total privacy.   Set in a corner of Imerovigli village with its own infinity pool, this supremely luxurious villa overlooks the volcanic crust of the island with panoramic views of the largest Caldera on earth formed when Santorini erupted 3,600 years ago.
And it is the Greek god-like views that make this villa truly exceptional.  The Aegean bay glistens from each and every window and from the oversized terrace with its hanging wicker swing chairs, its grand piano shaped lounger, its private infinity pool (heated in the cooler months) with floating pillowed beds. Nature's force and geology has provided a truly spell-binding spectacle from the spacious hot tub.  Smaller uninhabited islands rise up from the mist of the bay like giant turtles – remains of the volcanic caldera from when Santorini, once a circular island transformed into the tilted 'C' shape it is today.
PRIME LOCATION
The villa's location is enviable. Sitting midway on the volcanic rim, there are comfortable hikes direct to blue-domed Oia in the east and buzzing Fira, the capital in the west. And it's a short stroll, framed by magnificent vistas, to the shops and restaurants of Imerovigili – though far enough away to be totally quiet and secluded.
Smiles and champagne abound as the warm and wonderful staff show us around the extensive villa  – a gleaming white fully equipped kitchen is stocked with local wines, coffees and local preserves. The enormous lounge and dining room has cool tiled floors and whitewashed curvaceous walls. Sumptuous bedrooms with oversized beds and ensuite wet rooms lead straight out to the infinity pool – and there is even a second staircase leading down to our own private gym. The personal service goes above and beyond and nothing is too much trouble. There is twice daily maid service and concierge on hand whenever we need.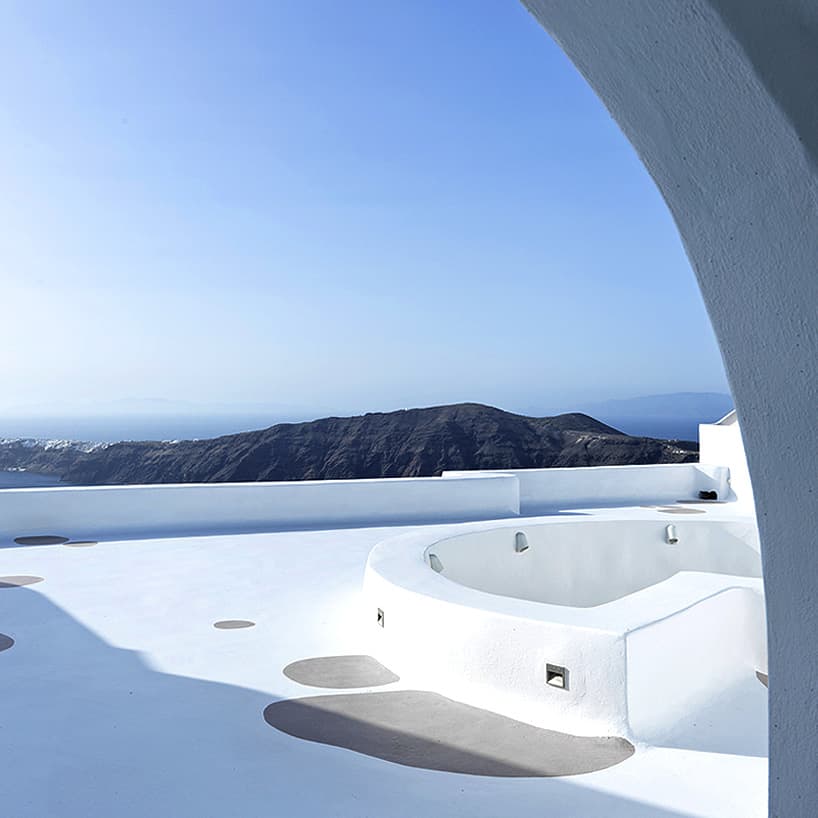 BREAKFAST OF KINGS
Each morning, a made to order freshly cooked breakfast arrives incorporating the traditional Greek fare of eggs, cucumber and tomatoes, freshly baked breads and treats, local cheeses and yoghurts – served whenever and wherever required.
In the evening, a sense of awe fills the air as the sunset slowly transforms the panorama from pinks and mauves to reds and oranges.  And of course the villa is perfectly placed for it to be delivered direct each evening. It brings with it an air of celebration as even the locals stop in their tracks to witness nature's glorious pyrotechnics.
If it's a spiritual uplift you need or just a chance to recharge your batteries, Santorini and the Astra Private Villa with its privacy and calm and breathtaking views will undoubtedly provide it.