Hotel Review: The Carlton, St Moritz
Luxury Explorer
A fairytale winter wonderland
It's the first glimpse of The Carlton, majestically standing on a snowy hillside plateau, framed by deep-green regal pines, that will remain etched in my memory. Exuding a magical and serene beauty, The Carlton, presiding over St Moritz, quite simply redefines the concept of luxury.
The spectacular Swiss resort of St Moritz sits at 1856m in the Engadin Valley of southern Switzerland, close to the frontier with Italy. It's said to be the birthplace of winter tourism – and I quickly see why. Its situation offers a rare combination of a glorious 320 days of sunshine a year, with exceedingly reliable snow. Each morning we wake to heavy white skies laden with snow flakes tumbling down against the backdrop of the 13,000ft mountains behind, creating an awe-inspiring monochromatic panorama. By the time we finish breakfast, the skies clear to reveal a brilliant deep blue, brightened by the shimmering frozen Lake St Moritz – the central focus of the town – over which the property faces.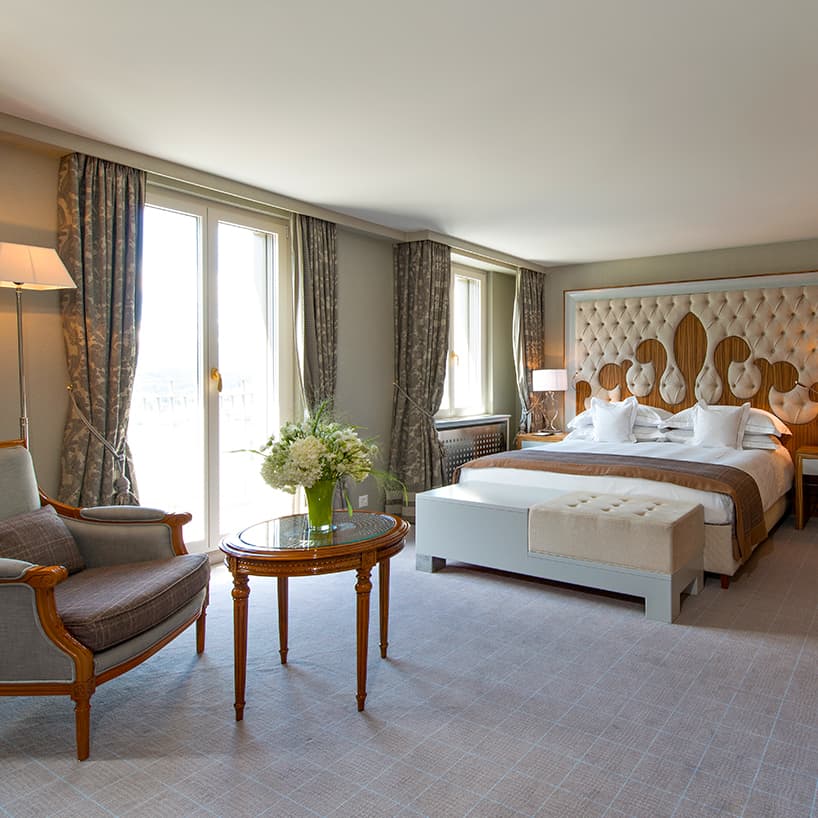 The Little Red Train
Part of the magic of visiting The Carlton is the journey to get there. Though some swoop in by private jet (there's a small airport in neighbouring Samedan), most travel from Zurich on the affectionately named Little Red Train. The enchanting three-and-a-half hour journey twists and turns through snow-covered mountains and forests, over ravines, towering viaducts and sparkling turquoise creeks. So beautiful is the route and so remarkable its engineering that it's one of only a handful of UNESCO protected train journeys in the world. Forget any reading materials – we are glued to the window in disbelief.
Pulling into St Moritz train station we're met by the hotel's impeccably dressed chauffeur and his Bentley – setting the tone for the sense of splendour to come. In fact, The Carlton offers a 24-hour chauffeur service – just a quick call and he meets us within ten minutes.
Its palatial architecture is spectacular. Rumour has it that the hotel was built originally as a summer home for Tsar Nicholas II in 1913, and the opulent decor, created by the renowned designer Carlo Rampazzi, reflects this. Rich, bold tones run throughout, and walls are hung with artistic prints of jewels and antique curiosities, each with a connection to the hotel. Rampazzi's vision extends as we walk to our suite along curious curved corridors with candy cane striped walls. I feel we might step into Alice's Wonderland.
There are 60 rooms here, all south-facing suites or junior suites, with a balcony overlooking the magnificent lake and mountains. From here you can see it all; a vantage point for the major sights, including the dignified Badrutt's Palace in the heart of the town. Suites are sizeable at up to 95sqm, and all are individually decorated in keeping with their own unique colour palette – shades of green, blue, orange, purple and our suite, The Carlton, a deep rich red. With a separate living and sleeping area, the suite feels ready to move into. The super king bed is soft and voluptuous, crowned by an ornate Berluti leather headboard. Through the window of the spacious marble bathroom, the sun reflects off the snowy hillside behind, providing the most tranquil of bath tub vistas. An assortment of tempting Molton Brown products line the surfaces. Walking through to the living room we're met by ornate yet comfortable furnishings: Murano glass lamps, and a splendid dining table with fruit replenished daily.
Dashing through the snow
The bell rings and it's our butler, available 24-7 to meet our every need. He is, in fact, one of two butlers available to us at The Carlton. Our 'Outdoor Butler', Urs, is perhaps The Carlton's piece de resistance. A local mountain expert, he's on hand to organise personalised outdoor activities from a morning snow shoeing, to a day's lesson in how to curl. For us, an unforgettable bespoke itinerary is created. Scaling the mountain by funicular, we are met by a horse-drawn carriage which proceeds through the forests under branches laden with snow; across the brilliant white pistes and past breathtaking viewpoints. We sit under a heavy fur blanket with the gentle chime of the horses' bells and the odd skier whooshing past. I can't imagine a better way to take in the beauty and tranquility of these exquisite alpine surroundings.
For skiers, there is a convenient shuttle service to the cable car station, an on site ski school and ski rental shop. St Moritz is known for its excellent pistes – it hosted the Winter Olympics twice – but my stay focused on everything else that St Moritz had to offer.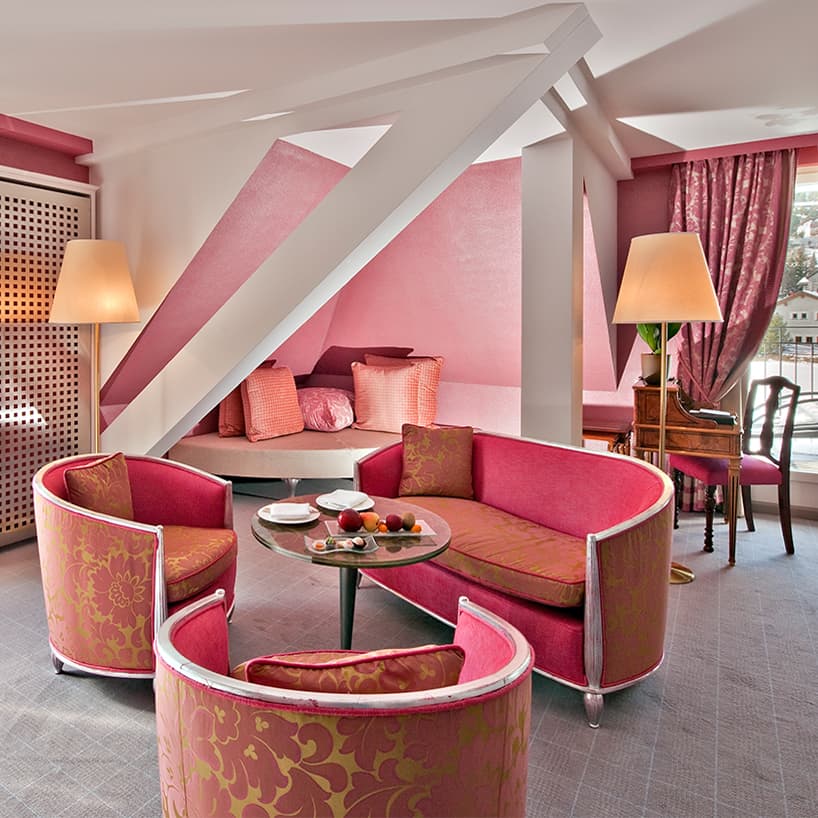 Chilling out – and warming up
The spa beckons – 1200 square metres across three floors; an enveloping oasis of warmth and relaxation flooded with an abundance of natural light. Swim from the indoors into a steaming outdoor pool, surrounded by sparkling snow, and glimpses of mountain peaks. Bubble jets and massage showers pummel away my tension. There's a vast array of saunas and steam rooms, and seven treatment rooms offering facials, massages and other beauty treatments using Cellcosmet products.
Food at the highest level
It's time to eat and there are two fine dining restaurants to choose from. Da Vittorio is perhaps the most renowned destination for foodies in all of St Moritz – the sister site of one of the world's best restaurants which holds three Michelin stars. This one holds a star of its own, celebrated for its remarkable Lombardic specialities. The scallop with artichoke foam and tender venison were particularly memorable. Restaurant Romanoff celebrates Swiss cuisine and organic goods. We try delicious local beef and lamb – paired with a carefully curated selection of wines.
The next door lounge is the spot to enjoy a night cap. We sink into the arm chairs by one of two roaring fires, and listen to the gentle accompaniment of the pianist as we prepare for slumber.
Breakfast is served in the Romanoff – an experience in itself as we take our seats in the oversized arch windows and look out at that view. An extensive buffet selection is on offer, as well as an abundance of champagne. Warm dishes are made to order. No request goes unheard here – such is the exemplary level of service and attention that after telling my waiter I can't eat gluten, the next morning three different gluten-free loafs await me on the spread.
And so it is time to say farewell. We wonder if we'll ever feel quite so pampered again. Our stay was all too brief. An excuse, then, to return as soon as we can.

Holly Rubenstein