Hotel Review: Barn House at Lakes by Yoo, The Cotswolds
Luxury Explorer
Barn House by Kate Moss
This 5-bedroom countryside hideaway, with lavish interiors designed by the supermodel Kate Moss, packs the wow factor. Nestled in 850 acres of Cotswolds woodland, on the private Lakes by Yoo estate, the Barn House is a villa rental that offers a haven of tranquility, where nature and contemporary design come together in perfect harmony. Pack your wellies, your Barbour and your swimsuit and escape to England's green and pleasant land.
There is nowhere more quintessentially English than the Cotswolds. Just an hour and a half's drive from London, here you'll find perfectly preserved villages, seemingly untouched for hundreds of years. Lanes are lined with unspoiled thatched cottages, built in a distinctive, glowing honey-coloured Cotswolds stone. Undulating fields scattered with sheep, and criss-crossed by narrow lanes are flanked by ancient dry stone walls. It's England's largest Area of Outstanding Natural Beauty; the home of Shakespeare and nowadays, a long list of movie stars. After a visit, you'll want it to be your home too.
The Lakes by Yoo is a collection of private properties and rental villas, a 15 minute drive from many of the Cotswolds' major sights (beautiful Bibury, Bourton-on-the-water, Burford and the Slaughters, to name a few). Built around several large lakes, regularly frequented by local wildfowl, and screened by woodland for privacy, they're the brain child of design collective Yoo Studio, co-founded by Philippe Stark. 
PIECE DE RESIDENCE
The Barn House is considered Yoo's piece de resistance, with five en-suite bedrooms, its own private heated pool, and the creative direction of Kate Moss, whose personal touch is apparent throughout the property.
From the outside, the Barn House is both striking and effortlessly subtle. Its front is entirely glass, interspersed with aged wood that seamlessly blends-in with the surrounding landscape, thanks to a collaboration with conservationists and ecologists.
To the side of the house is a secluded patio garden, where the pool is available to use through all seasons (and regularly checked by the grounds staff). It's surrounded by comfy sun loungers, pot plants great and small, as well as a BBQ for entertaining.
Moss's injection of rock'n'roll glam, as well as the Barn House's excellent facilities, make this the ultimate party pad, should you so wish. Whatever your plans, this elite stay is unforgettable.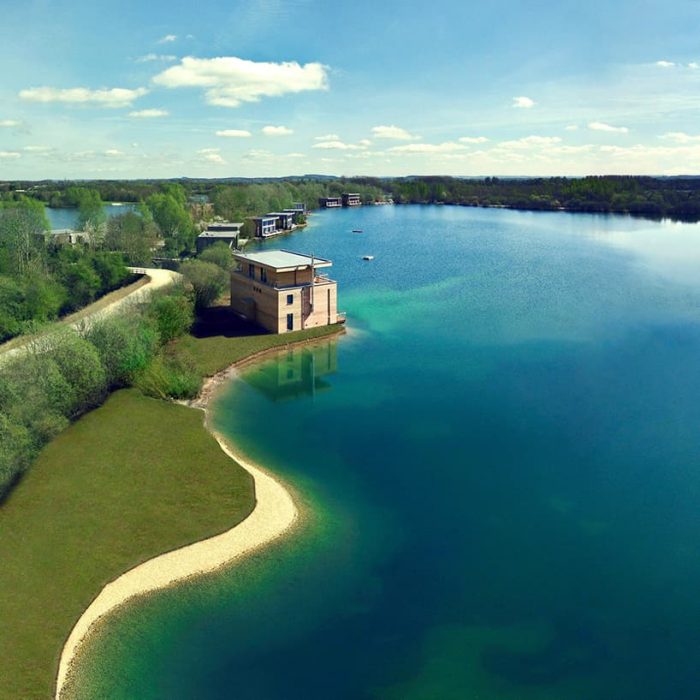 GETTING COSY
It would be easy for the glassy double height living room to feel stark or cavernous. In fact, oversized plush velvet Talisman sofas surrounding a  focal wood-burning fire means it feels anything but. A rainy day is altogether welcome! Sitting in front of a roaring fire, playing Kate's curated records on the Crosley player, or watching a movie on one of the house's two enormous flat screens, provides the perfect opportunity to unwind.
The kitchen sits at the back of the dining area, and comes equipped with every tool and gadget one could ever need. What a highlight to arrive to a fridge and large canvas bag packed with local delights for breakfast: bacon, sausages, brioche, tomatoes, mushrooms, cereals, smoothies, juices… the list goes on, and keeps us from ever going hungry.
The custom built sleek black dining table is already set for a banquet on arrival, with decadent gold cutlery and tableware. If you don't fancy cooking, there's Michelin-trained chef, Jay Halford, who can be booked ahead of time and comes highly recommended. In the summer, eat at Elsa's, an alfresco diner serving local produce in the apple orchard.
There is so much space here. To the side of the kitchen, jutting into the garden, is another living area, with a funky red V-shaped sofa, TV, desk and a pile of board games. Two of the ensuite bedrooms are downstairs at the rear of the house, decorated with House of Hackney and enveloped in peaceful woodland, providing an ambience for the most restful sleep.
Climbing upstairs, the wall is covered in sexy black and white portraits of Moss's celeb pals, warmly lit by dramatic globe lanterns. The master bedroom is joyously decadent. A sprawling silver four poster bed with ultra luxurious bedding and linen is perhaps the most comfortable I've ever slept in (and feedback from my guests affirm their beds are too). The master's gallery view, presiding over the living room below, and the lake in the distance, is sublime. A freestanding roll top bath awaits next door, with a delightful selection of Ren products. 
SWALLOWS AND AMAZONS
It's tempting to remain permanently cosied up in this incredibly comfy abode, but the great outdoors calls and there's an infinite array of options to entertain both young and old without ever leaving the estate's grounds. The lakes are an endless source of fun, offering kayaking, fishing, and even a zip-line across them.
Towards the meadow are two tennis courts, a herb garden, vegetable patch and hennery where you can help yourself to eggs. There's an arboretum, miles of walking, a bird-hide, and even a small beach.
TIME TO UNWIND
The Orchard spa offers indulgent relaxation and beauty treatments using local Bamford products, and the heated indoor swimming pool tiled in a deep blue and surrounded by yet more glass – along with a sauna and steam room – provides another space to switch off. When the sun is shining, swap the pool for the lake for a spot of wild swimming.
It's hard to leave this safe haven and return to the big smoke. We'll no doubt soon be returning to explore the other lakefront villas, all offering their own individual allure for peaceful holiday escapes to the country.

Holly Rubenstein