Ellie Goulding
Fiasco Magazine
Back in 2009, a music industry friend of mine played me the rough demos of a new signing of his. An ethereal wispy voice floated over hook driven riffs, a sound soon to be dubbed "folktronica". Even at this raw stage, the tracks seemed to somehow sparkle.  These songs went on to make up Ellie Goulding's debut album "Lights" which, a year later, entered the chart at number 1, and earned her a BRIT award.
Lately she's been been touring internationally and the hard grind has paid off with her title track "Lights" finally cracking the top 10 in the US. Now Ellie is back with her much-anticipated second album. Despite her overwhelming success, Ellie couldn't have been more down to earth and friendly, as we chatted in East London.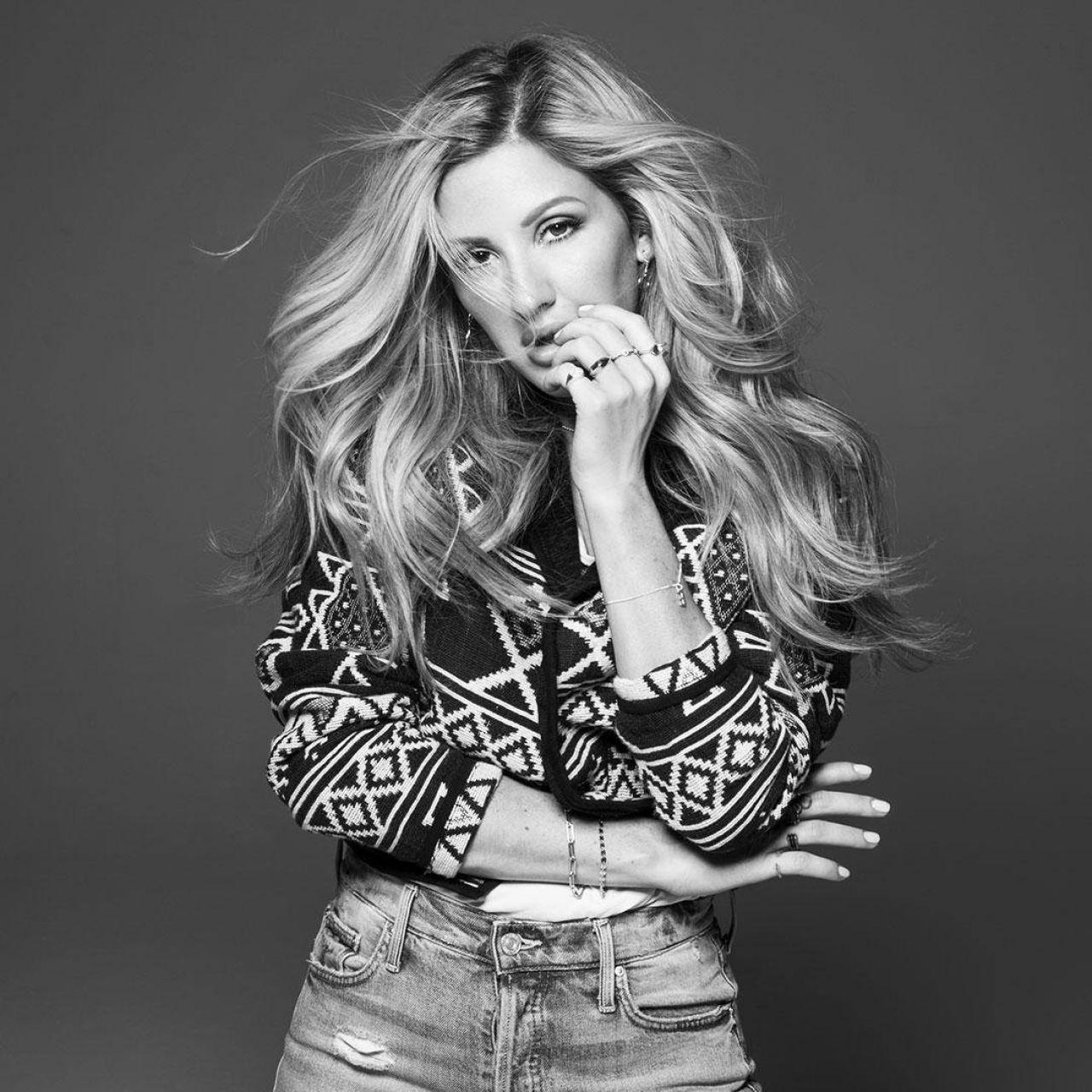 HOW DOES IT FEEL TO BE COMING BACK WITH NEW MATERIAL?
I don't feel any pressure. I definitely don't feel any pressure to compare it to my last album because even though it did really well I felt like it was an introduction. It was just the beginning. I feel really proud of myself because I got such positive stuff, but I also got a lot of shit. People for some reason feel that anything successful has to have a negative backlash.
I'M SURPRISED YOU FELT THAT AS MY IMPRESSION WAS THAT YOU HAD SUCH OVERWHELMING SUPPORT AND HYPE THAT IT COULD HAVE SEEMED TOO MUCH PRESSURE IN A POSITIVE SENSE…
Before the album came out I didn't see a single bad thing written about me. I just thought, 'this is incredible, how can it be this easy?' I've seen friends try and do it and get dropped from record labels and get bad press, and as it started happening for me I was worried at how good everything was. I felt like there had to be a catch. When the album was released  there was a mini-backlash (but) it happens with everyone, Lana del Rey, Azaelia Banks – they looked for anything to grind it down. It is something that you have to accept and get over. I remember I got a bad album review, and I was like, fuck man this is it, the career's over – which is ridiculous, obviously. But I kept going and did a show every night and I got Glastonbury where I said to my band, "Look, we can't fuck this up. This to me is the most important thing in my career so far. Let's just kill it guys". So we went out and it sounds so cheesy but it was like there was magic in the air. Afterwards, that performance was talked about for ages, by Jo Whiley and Radio 1 supported it. That was a turning point.
IT SEEMS AMAZING THAT LIGHTS WAS RELEASED BACK IN 2010 AND THE TITLE TRACK WAS (AT TIME OF WRITING) NUMBER 6 IN THE US – ARE YOU SICK OF PERFORMING AND PROMOTING THAT ALBUM?
(Laughs) I have to say yes because I haven't even had a chance to keep rehearsing to make them a little bit different, to keep myself interested. As much as you can always love your own music and love your own creations, when you perform that many times it becomes really difficult to sing them the same every time. With "Lights" I did a two week radio tour in the States, and that was around the time it was starting to heat up – I was going round the stations to basically thank them for playing the record. I gave everyone an acoustic performance and by the end of the two week tour, which was like three flights a day, the way we did the song was totally remixed and we were looping stuff live on stage, trying to make it was interesting as possible. By then it just sounded like a completely different song!
I GOT THE IMPRESSION THAT AT THE START OF YOUR CAREER YOU WEREN'T VERY COMFORTABLE PERFORMING LIVE – THAT YOU WERE A WRITER AND MUSICIAN FIRST AND FOREMOST?
Definitely, definitely. That very much evolved. That Glastonbury performance gave me the green light to be what I wanted to be. I was no longer afraid of being myself on stage. I went from standing behind my guitar being very shy to thrashing around, playing the drums, swinging the mike, and it just really grew. From then on, I was like, I have nothing to lose, I'm just going to keep going! If my voice is on good form and my band are on form, it all comes together and it just works. It's such a good feeling. I've cried before because sometimes it has been so emotional. Especially when you go to America and so many people turn up to the shows and… it's America you know? It's the other side of the world to me. It's very hard to take in.
CAN YOU TELL US ABOUT SOME OF THE PEOPLE YOU'VE WORKED WITH ON THIS ALBUM?
I've worked with Starsmith again because we have a very special bond and really understand each other. I don't press the buttons but I'm very much the director. I don't do the technical stuff, although I'm learning, but it's always been me reading out instructions. A song could never be made for me without me there.
WAS SONNY (AKA SKRILLEX, ELLIE'S BOYFRIEND) ONE OF THE PRODUCERS THAT YOU WORKED WITH ON THIS RECORD?
I've worked with him on tracks but not on the record I'm putting out now. I was on one of his tracks, which I've made into a song – I did that last night actually. We've worked together on stuff that will be happening.
HOW HAS YOUR SOUND HAS EVOLVED?
I guess in the same way that I have, however that may be. I suppose the last album I was younger, a bit more naïve and girly. I have a very dark mind – I think about the darkest things all the time, everything from murder to so many weird things. Now I've been less afraid to be those dark things. Before I always thought I had to be happy. The sound is much more raw and uses electronics in a very different way – a fatter way. It's not lots of different sounds but taking one thing and blasting it.
IT SOUNDS LIKE YOU'VE PUSHED YOUR VOICE A LOT FURTHER ON THE TRACKS…
Before that first album I hadn't done any live performance, any TV or radio but since the first album I've done 3 years of touring. Not just a show here and there – every night and an acoustic show during the day and a TV performance in the evening where you have to be on it. You really learn to maintain your voice and keep it strong. It's just like going to the gym and your voice is buff as hell.
WHAT ARE YOUR THOUGHTS ON BEING FAMOUS? YOU'VE HAD TWO CONSECUTIVE FAIRLY HIGH PROFILE RELATIONSHIPS. HOW DO YOU DEAL WITH THE ATTENTION THEY RECEIVE?
I don't like it at all, to be completely honest with you. I've never gone out of my way to try and be a celebrity as you probably know. I'd be happy to never be photographed. Unless you do something awesome like running or skateboarding, I don't mind that. I find it eternally bizarre – the whole fame thing. I mean, there are levels of fame where people just kill it and deserve the success, like Gaga, she just kills being famous
DO YOU GET PAPPED A LOT?
I used to. I think that people can draw attention to themselves. If I go running, I go running by myself. I don't walk around shops in flamboyant clothes. I think a lot of people get an epiphany and reason that's not the way, you know? I think people who are famous for being famous… I'd be like shit man, what am I doing? I want to learn everything I can, travel the world and be a good person. I don't want to be constantly papped and doing photo-shoots – that's not the way I'd ever want to be.
FROM THE OUTSIDE IT SEEMED YOUR LIFE AT ONE POINT WAS QUITE CONVENTIONAL AND SETTLED; YOU WERE LIVING WITH GREG (JAMES, THE RADIO 1 DJ, ELLIE'S EX BOYFRIEND) BUT THEN IT ALL CAME APART…
It got to a point where I was so busy and wrapped up in everything and suddenly I was having real comfort and my own place. Then I felt I needed to strip away stuff and I did. It was nothing to do with Greg, it was just me. We broke up on very mutual terms – we didn't see each other very often and it was a bit rubbish. We loved each other and we're still really good friends. I would never sacrifice something for the sake of it.
Aside from that I had come to a point where something was missing in my life or there was too much of something in my life. I needed to basically wash away everything that had happened in the last couple of years. I'm naturally inclined to think quite dark thoughts. Since I was 11 my mind has always been completely overwhelmed with everything and it made me sad a lot because I thought a lot about negative and sad things. The only way I could really control that was to write songs. But that is how my panic attacks started. My brain was too active, you know?
ARE THERE SONGS THAT ARE WRITTEN ABOUT HIM ON THE ALBUM?
Yes. I write about me and my experiences and other people's experiences. I write whatever is stirring my heart. So yeah, inevitably there are songs and lyrics around that. There's also a song about my dad (with whom Ellie doesn't have a relationship) and there are lyrics about my brother who I love.
YOU'VE BEEN SPENDING A LOT OF TIME IN LA. BEARING IN MIND YOUR TRACK "WISH I STAYED" WHAT HAVE YOUR THOUGHTS BEEN ABOUT WORKING IN THE US, AND HOLLYWOOD?
I love it out in LA. You have to take the whole Hollywood/Hollyweird thing for what it is. LA isn't as mental as people think it is. It's an extremely creative and colourful place. I can't help but enjoy it there. I like having doses of it but I wonder if I would live there. I love being in my little flat in London, then going to LA and living in a hotel, partying, going to the studio at 2am and running down Sunset Boulevard. I love being home, seeing my friends and London, and then I go there and I'm like, I love it here and don't want to go home. I went to LA recently for a week and ended up staying for a month and a half – everyone here was tearing their hair out!
YOUR APPEARANCE HAS EVOLVED, HOW DO YOU FEEL YOUR OWN STYLE HAS DEVELOPED? DO YOU LOOK BACK ON WHAT YOU WORE WHEN YOU FIRST HIT THE BIG TIME AND CRINGE AT ALL?
Yes! I made some bad decisions clothes-wise, I used to wear a lot of weird things – I was a bit of a goth. I had piercings and very long black hair. I wore big flares, buffalo shoes, baggy hoodies. Lots of eyeliner – I'd always have big black flicks like Amy Winehouse.  I have really changed – I wouldn't wear a flowery dress any more. My favourite designer is Alexander Wang, by far.
GIVEN THAT YOU'RE NOW A MAJOR NAME IN MUSIC, IS THERE ANYONE YOU HAVE BEEN STARSTRUCK BY?
Bjork. I didn't even have the courage to go and say hello to her. She was dancing around me and I just didn't know what to do. She's my hero, man. I was gutted that I didn't get to speak to her. In fact, I'd love to do something with her. I should reach out to her really.
WHO WERE YOUR MAJOR INFLUENCES WHEN MAKING THE RECORD?
Loads. Bjork is always an influence. A lot of producers. I should make you guys a playlist. Yes, I will. I would love to make you guys a playlist!
WHO ARE YOUR FAVOURITE BRITISH ARTISTS?
One of my best friends is Jessie J, she's always been there for me, literally. Whenever I'm down I call her. I like her, she's so funny. Tinie, I obviously love. I support a lot of new ones coming through – Jessie Ware. I like Example, cos he's just cheeky and doesn't give a fuck. I love Sub Focus, DJ Fresh, Sampha, Yasmin. Everyone looks out for each other. Adele is an absolute champion and she should be an inspiration to anyone. I believe in good people and good music and there's so much more of that, so I'm really happy. I think people have stopped trying to be formulaic.
WE CAN'T CHAT WITHOUT TOUCHING ON YOUR PRIVATE PERFORMANCE AT THE ROYAL WEDDING  – WAS IT MORE AMAZING OR TERRIFYING?
Both. When I first came out it was obviously really, really scary. And then, by the end, I was enjoying it so much. (It's) something I can tell my kids. What a great feeling, man. You can't ever predict that shit. I keep posting pictures on Facebook… I performed for the President recently and met his family. I performed for Richard Branson. All this stuff is so mind-blowing to the four years ago me. I keep posting these pictures of me meeting the Queen and people on Facebook are like "What! Oh my God!" I feel very grateful for my life – I don't really think about it until I talk about it, but it makes me smile.